Election Information
Fee Schedule
Site Map
History
Links
Contact Us
Observed Holidays
Cities & Townships

Local News

Kittson County Enterprise
North Star News



Courthouse
410 Fifth Street South
Hallock, MN 56728
Hours: 8:30 - 4:30* M - F,
except for holidays
*Motor Vehicle Dept. open till 5:00, M - F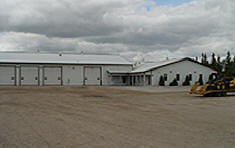 Highway Department
209 Columbus
Hallock, MN 56728
Hours: 8:00 - 4:30* M - F,
except for holidays

County Board Meeting

September 7 @
9:00 a.m.
September 21 @
9:00 a.m.

Welcome to the Kittson County Website!

Kittson County is the most northwestern county in the State of Minnesota.
The County seat is Hallock, which lies 20 miles south of the Manitoba, Canada
border on Trunk Highway #75 and 10 miles east of the North Dakota border on
Trunk Highway #175.

The western part of the County, which is part of the fertile Red River Valley,
produces bountiful crops of wheat, barley, sugarbeets, sunflowers, canola, and
soybeans. The eastern part of the County is known for it's abundant wildlife
population consisting of, white-tail deer, moose, bear, bobcats, cougars,
and various varieties of waterfowl.

The County has 26 organized townships, four unorganized townships, and
nine cities, three school districts, and four watershed districts.
---
Official Kittson County Site

Please submit any comments or suggestions to:

Webmaster



Disclaimer: The information on this site is made available as a public service. Maps & data are to be used for reference purposes only and Kittson County, MN, is not responsible for any inaccuracies herein contained. No responsibility is assumed for damages or other liabilities due to the accuracy, availability, use or misuse of the information herein provided.
Other Offices Located in the Courthouse
Farm Service Agency

---
Two River Watershed District

---
NCTC Ag Instructor

---
MN Extension Service

---
Court Administration